So Amanda and I (along with Richy, Carrie, Lee, and Dan) went to the Ben Folds concert last night at Foellinger. The show was great! The opening act was a great string trio led by David Berkeley on guitar, and assisted by Will Robertson on upright bass and Adam Buchwald(?) on mandolin. They were really good. I loved the mix of the 3 instruments. You should definitely check out David Berkeley if you get the chance (there's a mp3 available for download on his page of a song "Fire Sign" that was featured in CBS' show Without a Trace). Really good stuff. Had to break down and pick up his two albums after the show.
And Ben Folds was absolutely freakin' awesome. Quite a showman, and really damned hilarious. Does some amazing stuff with a piano. I never knew you could get that sort of sound out of one. Of course, I've also never seen anyone pound the shit out of one quite like that either. He really rocked that bitch last night. And hearing him do Liz Phair's Chopsticks brought a certain smirk to my face. I know I've heard some live stuff the two of them have done together, but I wasn't expecting that last night. All I can say is it was one hell of a show.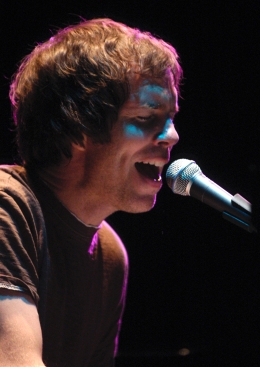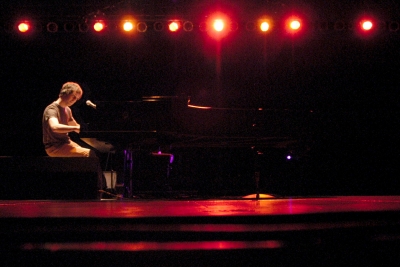 (photos courtesy of the Daily Illini)
The DI even has a story on the show.